NVA's Fall 2015 Research Award
Caroline Pukall, PhD-Queen's University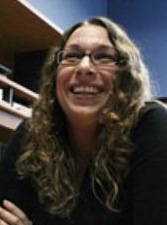 Caroline Pukall, PhD, a professor and director in the department of psychology and school of rehabilitation therapy, at Queen's University, was awarded an NVA research grant on spinal cord imaging of women with provoked vestibulodynia (PVD). This study will be cross-sectional and will include a total of 40 participants between the ages of 18 and 30: 20 women with PVD and 20 control women. The main reason for the narrow age range stipulated for this study is due to the novel nature of this initial study; they want to ensure that any changes they find between groups will not be due to age or menopausal status.
Participation in the study will include the following: 1) screening interview over the telephone to assess eligibility; 2) gynecological examination to confirm eligibility; 3) interview/questionnaires and quantitative sensory testing (QST) session; and 4) imaging session. The level of imaging focus in this paradigm will be the cervical cord and brainstem, and not on the whole brain, as is typical for neuroimaging protocols in the vulvodynia literature. The reason for this unique focus is that 1) we know very little about cervical cord and brainstem
function in women with PVD, and 2) we have an existing pain imaging database of these regions in patients with a variety of pain conditions (e.g., fibromyalgia) with which to compare the data obtained from the proposed study—allowing comparisons of neural responses among women with PVD, women
without PVD, and women with other pain conditions.
Elke Jarboe, MD-University of Utah
Elke Jarboe, MD, an assistant professor of pathology and obstetrics and gynecology, at the University of Utah, was awarded an NVA research grant on genetic and immunohistochemical analysis of primary and secondary vestibulodynia. Her group has recently presented the first familiality analysis to test for a heritable contribution to this disease. Employing the Utah Population Database (UPDB), which is a resource linking clinical diagnoses to large genealogy-based family pedigrees, the results support the hypothesis that women treated by vestibulectomy likely have a genetic predisposition. The question now is whether primary and secondary vestibulodynia share the same genetic predisposition.
They propose to use the UPDB to specifically test the relative risk in first-, second-, and third-degree relatives of women specifically diagnosed with either primary or secondary vestibulodynia. They have identified 308 vestibulectomy cases at the University of Utah classified into these two diagnostic subtypes that can now be investigated in the UPDB.