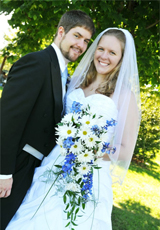 Dear NVA,
In fall 2010 I was told that I had vulvodynia. I finally saw a specialist about a year later who diagnosed me with Provoked Vestibulodynia and recommended surgery. She also recommended that I join the NVA. The NVA connected me with a support group and various resources that helped me to prepare for my surgery. I went into the procedure completely confident that this was the right treatment path for my condition. My surgery was extremely successful and I am now completely pain-free!
When planning our wedding, my fiancé and I wanted to do something in lieu of the traditional glass-clinking to get us to kiss during the reception. We knew another couple who took donations for an organization and cause that they cared about. After my surgery, I was reading an NVA newsletter and remembered how much pain I had been in, and how lucky I was to have such a successful treatment outcome. I tearfully asked my fiancé if our donations could be sent to the NVA. He agreed that the NVA had helped me so much and that we shouldn't forget that although I was out of pain, there are many women still suffering and that more research is needed.
Here is what we told our guests: "Instead of the traditional glass-clinking to get the bride and groom to kiss tonight, Martha and Justin have decided that in order for them to kiss, you will need to make a donation. You probably know that both Martha and Justin have had surgery in the past year, so they have seen first-hand how important donations to medical charities are. The organization that they will be donating to is the NVA, a medical charity that has helped them. Please donate as you are able. The more donations, the more you make them kiss!"
Enclosed are the donations that our guests contributed at our wedding reception.
Being pain-free has completely changed our lives, and I cannot thank the NVA enough for having the resources and information available when I needed them most.
Sincerely,
Martha & Justin R